Friday, July 6, 2001
Dabney S. Lancaster Community College
Clifton Forge, Virginia
Ecothings
Collages and salamanders were in abundance! Here are some of our visual favorites.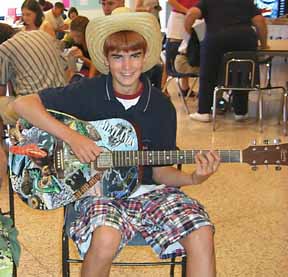 James performed on his "Eco-Guitar"


Matt K. sculpted Wehrlis in clay and placed them in a suitable habitat.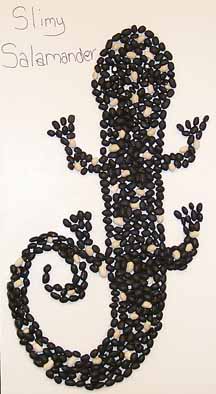 Matt W. made a Slimy out of beans.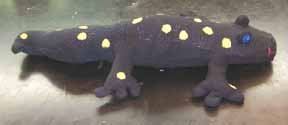 And the most unusual: a stuffed Spotted made from Heather's backpacking socks!
Jessi's Salamander Acrostic:
Small
Amphibians that
Live in the
Americas and other
Magnificent places. They live in
A wide range of places with
North America having the largest salamander
Diversity in the world.
Everybody in the world needs to help protect and
Restore salamander habitat of the salamanders.
---
Return to Photo Index Page
Return to General Info Page.
Return to 2001 Participants' Info Page.
---
Updated 7/7/01.