---
First Session - Salamander Study

Second Session - Forestry Study
---
Staff

Ms. Jane DeGroot, Co-Director and Instructor
Biology Teacher, Covington High School, Covington, VA
Mr. Josh Craft, Instructor (Salamander Session)
History Teacher, Clifton Middle School, Covington, VA
Ms. Danielle Dulaney (Forestry Session), Assistant Instructor
Biology Teacher, Mountain View High School in Stafford County.
Dr. Susan Wells Rollinson, Co-Director and Assistant Instructor
Former Instructor, Dabney S. Lancaster Community College and Jackson River Governor's School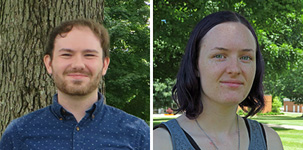 Mr. Cody Daugherty, Senior Mentor-Aide
Student, Bridgewater College
Ms. Molly Austin, Mentor-Aide
Student, Virginia Tech
---
Return to Field Ecology Home Page.
Return to 2017 Participants' Info Page.
---
Updated 7/8/17